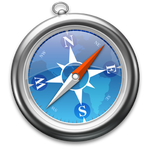 Apple Safari (otherwise known simply as Safari) is a web browser created and maintained by Apple. It was created so that Apple could get rid of Internet Explorer for Mac, which was made by Microsoft, a rival of Apple. Version 1 was released in 2003. It is currently fourth in web browser marketshare. Safari is included with Apple's popular iPod Touch and iPhone.
2003-2006
Edit
Safari 1.0 was released on June 23, 2003.
Safari 1.1 was released on October 24, 2003.
Sarai 1.2 was released on February 2, 2004.
Safari 1.3 was released on April 15, 2005.
Safari 2.0 was released on April 29, 2005.
Safari 2.0.2 was released on October 31, 2005.
2006-2009
Edit
Safari 4 beta was released on Feb. 4th, 2009
Safari 4 was released on Jun. 8, 2009.
Adeed by:184.47.162.39 00:53, August 30, 2012 (UTC)
2010-2011
Edit
TBA
Acid Tests
Edit
Safari successfully passed all three Acid Tests.
Ad blocker interference detected!
Wikia is a free-to-use site that makes money from advertising. We have a modified experience for viewers using ad blockers

Wikia is not accessible if you've made further modifications. Remove the custom ad blocker rule(s) and the page will load as expected.