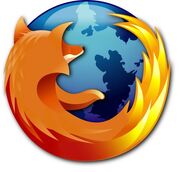 Mozilla Firefox is a web browser created and maintained by Mozilla. It first launched as 'Phoenix', but had to change its name due to trademark issues with Phoenix Technologies, thus becoming 'Firebird' and later 'Firefox'. Firefox is the second most used browser, after Internet Explorer, being used by 30% of people. Firefox 4 has been confirmed as the last large release cycle Mozilla will do.
2004-2006
Edit
Firefox 0.8 was released on February 9, 2004.
Firefox 0.9 was released on June 15, 2004.
Firefox 1
Edit
Firefox 1.0 was released on November 9, 2004.
Firefox 1.5 was released on November 29, 2005.
2007-2009
Edit
Firefox 2
Edit
Firefox 2.0 was released on October 24, 2006.
Firefox 3
Edit
Firefox 3.0 was released on June 17, 2008.
Firefox 3.5 was released on June 30, 2009.
Firefox 3.6 was released on January 21, 2010.
Firefox 4
Edit
Firefox 4.0 was released on March 22, 2011.
Firefox 5
Edit
Firefox 5.0 was released on June 21, 2011.
Firefox 6
Edit
Firefox 6.0 was released on August 16, 2011.
Firefox 7
Edit
Firefox 7.0 was released on September 27, 2011.
Firefox 8
Edit
Firefox 8.0 was released on November 08, 2011.
The current release is 8.0.
The current beta release is 9.0 Beta 1.
The current alpha release is 11.0a1.
2010-2011
Edit
TBA
Firefox 4
Edit
Firefox 4 launched in March 22, 2011 and had gained multiple good reviews, and was known as the most reliable of the three top browsers (compared against IE9 and Chrome 10).
As of March 30, 2011, it has received over 46 million downloads. This result will greatly affect market share as Internet Explorer 9, another browser launched in March 2011, does not support Windows XP users, and thus, will result in a downfall in IE market share.
Firefox 5
Edit
On June 20, 2011, Mozilla released Firefox 5, just 3 months after 4 was released. This is part of Mozilla's plan for small but quick releases. Firefox 6 and 7 are already in the alpha stage, and 6 beta will be released in the coming month.
Acid Tests
Edit
Firefox successfully passed the Acid and Acid2 tests, and recieved 100/100 on the Acid3 test.
Ad blocker interference detected!
Wikia is a free-to-use site that makes money from advertising. We have a modified experience for viewers using ad blockers

Wikia is not accessible if you've made further modifications. Remove the custom ad blocker rule(s) and the page will load as expected.